Setting up a new centre:
In order to register your Arts Award centre please log in to the adviser portal with your username and password, you would have been emailed these after you completed adviser training (Please note your password is case sensitive.)
If you only recently attended adviser training, please note that log in details are sent 2 - 3 weeks after training completion. If you still haven't received your login details after this time, then please refer to this guide.
Once on the homepage of the adviser portal, you should click the link to register or link to an arts award centre (see screenshot below).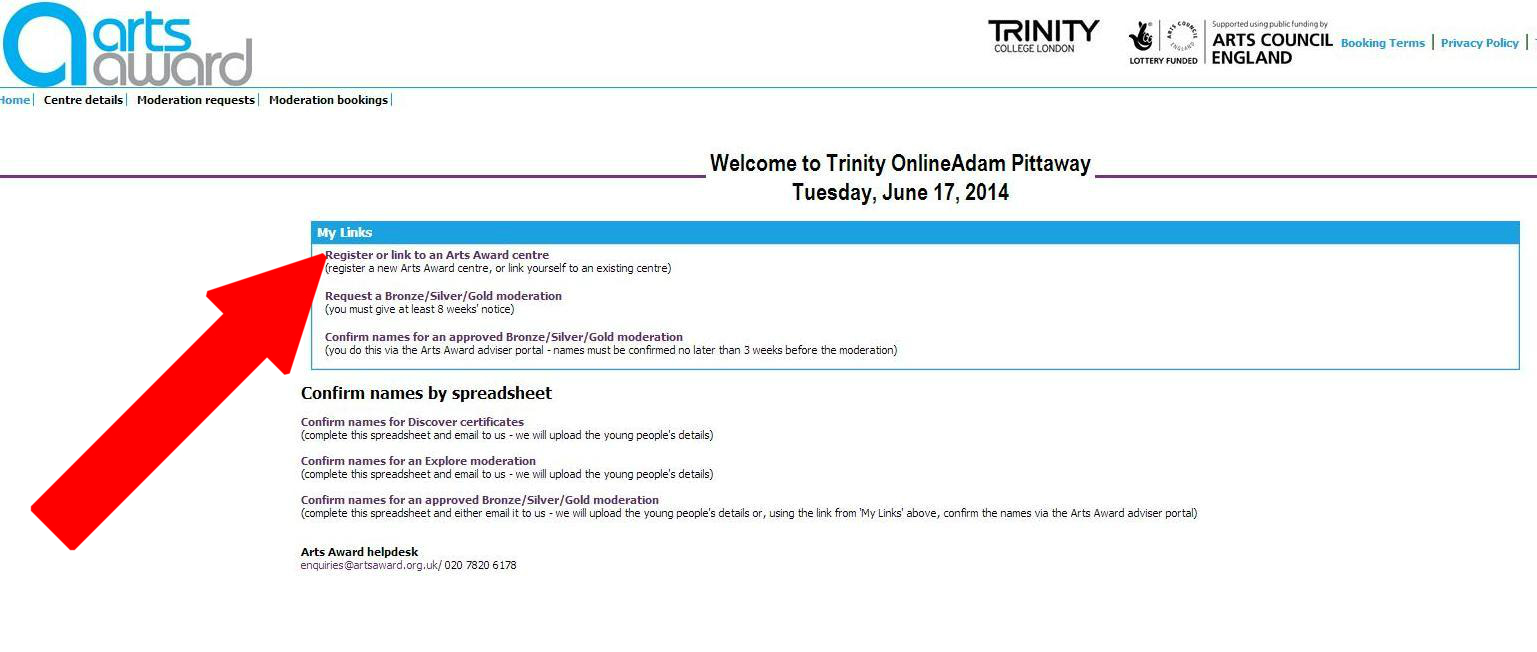 When asked if the centre is already registered click no. If you want to be linked to an already existing centre you can choose Yes and enter the centre details to link yourself (see more instructions about how to do this below).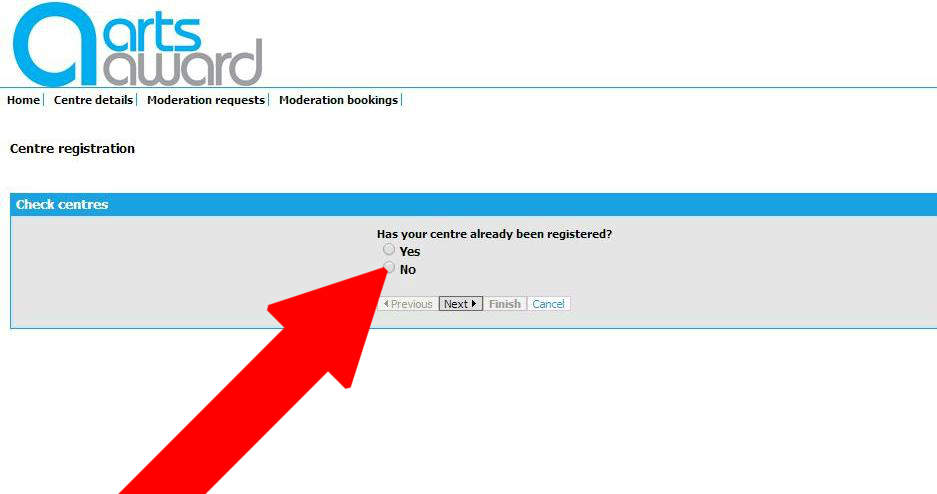 On the next screen complete the online form giving your centre details such as name, address and telephone number.

Your centre agreement will be sent by email within approximately 7 days. You can sign the document electronically, or forward the email to someone else if you are not authorised to sign on behalf of the organisation you are registering.

Once the contract has been signed your new Arts Award centre will be available in the adviser portal for you to book moderations within approximately 7 days. Once your centre is active you can request a moderation date.

Please note that you will not receive a notification once the activation takes place, however you can see the status of your centre activation by logging into the adviser portal and clicking on centre details in the top navigation bar.
What are the requirements to set up an Arts Award centre

Any business, arts and cultural organisation, school or youth organisation can register a centre with Trinity to deliver Arts Award. The centre is the organisation responsible for the delivery of the awards and through whom young people certificate/moderate their work. To register a centre a person who has authority at your organisation will need to read and sign Trinity's centre agreement. The centre agreement consists of standard terms and conditions that clarify the responsibility of the centre to provide appropriate administration for Arts Award.

The centre agreement will require you to provide details that demonstrate your organisation is a registered business, charity or school, such as a Company's House, Charity or DFE number and website address.

If you are an individual working as a freelancer to deliver Arts Award there are two options available to you to register a centre:

1. Each of the organisations you plan to work with can be set up as a centre. You can be the main contact for these organisations but each separate organisation will need to sign a centre agreement and they will receive a registered centre number. If you do not have authority to sign the agreement on the organisations behalf, you will need to forward the agreement on to the most appropriate person.
2. Individuals who are self-employed and can demonstrate they have their own business as a separate legal entity and can meet the terms and conditions of the centre agreement can register this business to be a centre. It is the organisation that will need to enter into the centre agreement with Trinity rather than the individual.
On receipt of your centre agreement to Trinity we will do some basic checks to verify the details you have provided us with such as confirming the DFE, charity or company's house number you have provided.

All organisations should provide a website address as we will check to see that your organisation works with children and young people.

Where you are an organisation such as a prison, youth offending team, local authority or other organisation that does not have a business number we will use the website details you provide to verify your address. (In some instances this will be a wider organisation or authority website such as the Youth Justice Board website.)

If you do not have either a business registration number or a website address for your business, please provide us with details of how we can check your business credentials.
Linking to an existing centre:
Please log in to the adviser portal with your username and password, you would have been emailed these after you completed adviser training (Please note the password is case sensitive.)
Once on the homepage of the adviser portal, you should click on the link to register or link to an arts award centre. When asked if the centre is already registered click yes. On the next screen enter the centre number and postcode of the centre you wish to link to. Once you have entered this information you will automatically be linked to the centre. You will then be able to request a moderation date (Please note the postcode is case sensitive.)