*Coronavirus update*
We are currently conducting moderations remotely via digital online submission.
Remote online moderation replaces all our normal face-to-face and postal moderation options and will be the only moderation option available to our centres until we are able to return to our normal processes.
If you are planning on booking moderation in the next few months, we strongly recommend you deliver and prepare your work in a digital format to ensure moderation can still go ahead if normal moderation options are not available at the scheduled time. Portfolios that have been created in hard copy will need to be converted into digital format. If portfolios are already online, you will need to share with us the links.
If you are unable to work in digital format, you may place a provisional booking for face-to-face moderation later in the year, though this may be postponed or transferred to our alternative options at a later date if needed. We will contact you nearer the date to offer you the option to either switch to online moderation or postpone to a later date if face-to-face moderation is not available at the time.
Postal moderation is currently replaced by the remote online moderation option and will resume when we are able to return to normal processes and receive work via post.
For ideas and recommendations about delivering and developing work digitally, please read our blog.
Please read below to find which moderation type would normally be right for you and follow the relevant link for detailed information about how remote online moderation will work.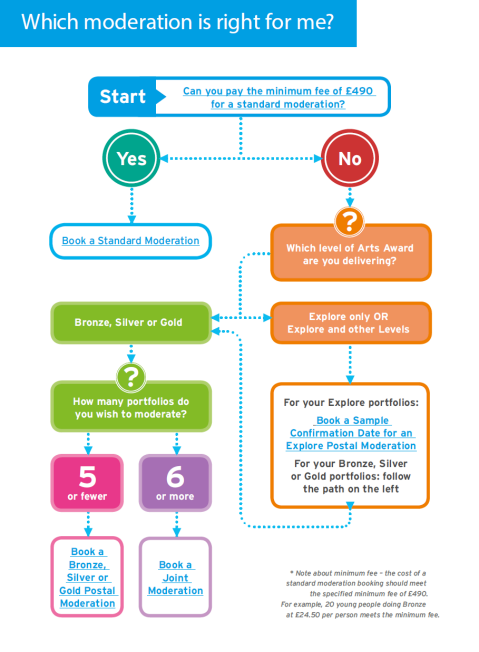 A moderation involves a moderator, trained by Trinity College London, looking at a selected sample of the young people's work in order to validate an Arts Award adviser's assessment.
Am I ready for moderation and how do I request a moderation?
As an Arts Award adviser, whilst planning your Arts Award project with your young people, you should also be thinking ahead to when you think your young people's work will be ready for moderation.
Before booking a moderation you should ensure you are linked to an Arts Award centre (find out more about registering or linking to a centre). There are a number of moderation options available and these vary depending on the number of young people you are working with and the level of Arts Award you are working on.
When you are ready to request a moderation, you will need to log in to the adviser portal and click 'Request a Explore/Bronze/Silver/Gold moderation' on the portal homepage. For full guidance on how to access and use the adviser portal, please download the adviser portal guidance.
Select the relevant level of Arts Award to view the certification/moderation options available.
Please note, we have updated our Arts Award Terms and Conditions of booking as of July 2020.