Trinity Champion Centres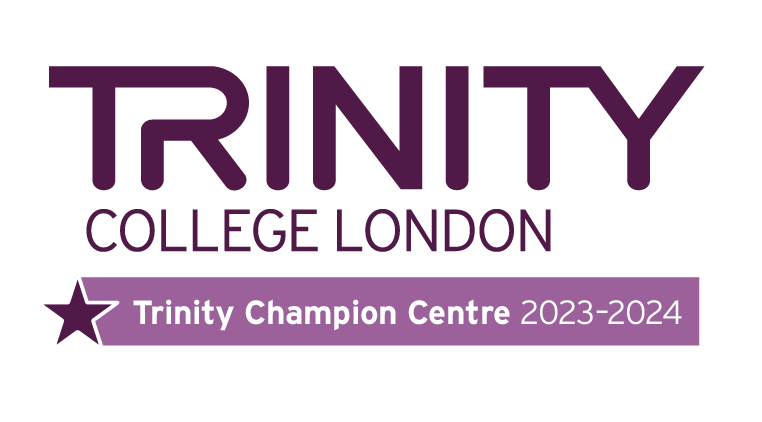 What is a Trinity Champion Centre?
Trinity Champion Centres inspire existing and potential centres by sharing their practice and advocating for the qualifications in their communities and more widely. In return, we celebrate achievements, profile their success and promote their work as part of our support offer to teachers and centres.
Champion Centres are recognised by Trinity for their successful delivery of our qualifications. Ways in which this success could be demonstrated include: strong exam results, an exciting programme of performance events, impact on learners or innovation in the performing arts. Centre status is recognised by Trinity through the award of a certificate and a logo, with opportunities to showcase their creative offer throughout the year – for instance in blogs and marketing campaigns.
To find out more about the Trinity Champion Centre programme, please email artsawardenquiries@trinitycollege.co.uk
Arts Award Trinity Champion Centres for 2023-2024
There are 53 Arts Award Centres. They come from a great range of sectors, including: formal education, arts & culture, youth & community, performing arts academies and music services.Our map below shows the current Champion Centres with Arts Award shown in blue and Music/Drama in purple.
Juliet Fisher from Trinity Champion Centre Malvern St James Girls' School gives us her response on being selected:
At Malvern St James we have been delivering the Arts Awards since their inception over 15 years ago, and each time have been stunned and inspired by the creativity, enthusiasm and skills of the young people involved. We are immensely proud to have been awarded the Trinity Champion status, for doing something that we love to do. Becoming a Trinity Champion recognises our commitment as a school to the Arts and enables us to share our passion and experience with other settings and our community. What a privilege! Juliet Fisher, Head of Expressive Arts, Malvern St James Girls' School
Philippa Ranger from Trinity Champion Centre Northern Ballet gives us her response on being selected:
Northern Ballet is delighted to become a Trinity Champion Centre. We have been delivering Arts Award for over 6 years and we feel very strongly about giving young people the opportunity to achieve a qualification in the arts. Becoming a Trinity Champion Centre will allow us to shout loud about the exciting opportunities young people can take part in with Northern Ballet and to offer other arts organisations and advisors support with the process. Philippa Ranger, Dance Education Officer, Northern Ballet
Sophie Wynn from Trinity Champion Centre The Historic Dockyard Chatham gives us her response on being selected:
Chatham Historic Dockyard are thrilled to have been selected as an Arts Award Trinity Champion Centre. We will continue to uphold the ethos of a Champion Centre by supporting local Arts Mark schools and work in partnership with other museums to develop their Arts Award offer. For this year, we are particularly looking forward to launching a new and exciting Arts Awards linked to our current exhibition 'Hidden Heroines: the untold stories of the women of the Dockyard', in which children will have the opportunity to learn about the influential role and legacy of women at Chatham Historic Dockyard. We would like to thank Arts Council England for the public funding support received. This has enabled the Dockyard to deliver Arts Award for the benefit of local schools and young people.
Kim Nicholls from Trinity Champion Centre The Minack Theatre gives us her response on being selected:
The Minack Theatre is honoured to hold the title of Trinity Champion Centre. We have been delivering Arts Award and Trinity Acting exams for the past four years. We pride ourselves in the diversity of our offer and on enabling access to everyone. Although we are a working theatre, we provide opportunities in all arts areas, not only those directly associated with theatre. Being a Champion Centre will enable us to extend our offer even further in to our community by providing support to other nearby centres.
Trinity Champion Centres replaced Arts Award Good Practice Centres. Find out about Good Practice Centres from 2014-2018, 2013-14 and 2012-13