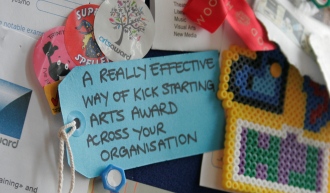 What is in-house training?
In-house training is a cost-effective and bespoke approach for organisations that want to train 6 to 15 people. This type of training offers a range of benefits, including:
Offering the flexibility of choosing your own venue and timings
Tailoring the course to the needs of your organisation
Saving an average £300*
We offer in-house training across the UK and at all Arts Award levels (Discover & Explore, Bronze & Silver and Gold).
Is my organisation suitable/eligible?
To be eligible to request an in-house training course, you must meet the following other criteria:
in-house training participants are all from one organisation, an existing consortium/membership group, or a direct partnership
participants meet the requirements on our Arts Award Adviser Person Specification as individuals
the course is being offered with a clear strategic rationale and each training participant understands why the group is being trained together
the course is not advertised
it is clear that the host organisation is not making a profit by running in-house training
In order to run the course you will need to provide:
a venue
facilities to run the course (ie, venue/appropriate room, table, chairs, computer, wi-fi/internet connection, DVD player, projector, screen, stationery, any other reasonable requirements made by the trainer during the planning of the course.)
a course date
a minimum of six and maximum of 15 trainees
someone to co-ordinate the day and arrange payment, working with the trainer and the Arts Award training team
How do I request an in-house training course?
Once you are sure you have met the above criteria and you are able to provide for an in-house training course, you are ready to book! You can only do this on our Arts Award In-House training request form.
Please note that we require at least 4 weeks notice to arrange in-house training.
This comes straight to the Arts Award training team. If you don't already have a trainer, we will find a suitable trainer local to you and introduce you to them in a formal confirmation of the course via email.
We usually confirm an in-house training course within 1-2 weeks of receiving the request, but will get in touch with you should we have any difficulty in doing so.
How is the course paid for?
You pay a fee based on the number of people trained (min. 6 people / max. 15 people), based on the registration taken on the day and the level of the training as follows:
£100pp (Discover & Explore half-day course)
£115pp (Bronze & Silver full day course)
£95pp (Gold half-day course)
You will also pay the trainer direct at a fee you should discuss with the trainer beforehand, which is roughly:
min £333 plus expenses for a full day
min £216 plus expenses for a half day
You will be invoiced for both payments separately after the course has taken place. Further information on payments can be found here.
Results are then sent out 2-3 weeks after the course, depending on payment. These results arrive via email to the individual paticipants of the course. If you have already been on in-house training but haven't received this email then please go here to find out what you can do.
Download Arts Award Costs and Funding 2019 - 2020
What do others think about in-house training?

'In-house training allowed us to reach a large number of our arts teachers all at once. This has made it easier for us to monitor the development of Arts Award in the schools involved and create a working party of all the participating teachers.' Stephen Alty, Advisory Teacher for Drama/Dance, Wigan
'A really effective and enjoyable way of sharing training amongst a group of professionals from the same specialist sector.' Peter Leigh, Sound Connections, London
Any other questions?
You can vsit our Help Centre to search our FAQs or contact us and we will be happy to help.
Please make sure that you have read and understood our Terms and Conditions of booking before booking in-house training.
*based on a per head participant fee for eight people on a Bronze & Silver course, minimum recommended trainer fee and venue local to trainer.