An Arts Award journey to social action
Social action offers many possibilities for young people to develop their arts and leadership skills by taking part in creative activities and campaigns.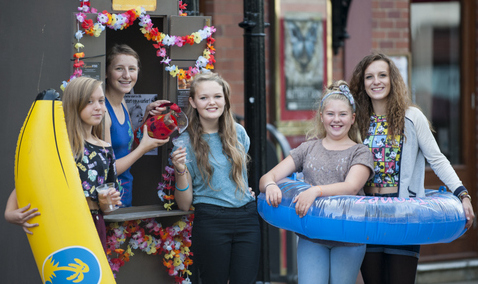 Whether young people choose to stage a charity drama performance that raises awareness of an important cause, or develop their journalism skills by creating a magazine about a social issue they are passionate about, they can achieve Arts Award whilst they become active citizens.
Youth social action means young people taking action in the service of others through:
fundraising
campaigning
volunteering, or other practical activities
Social action is a hot topic in the youth and community sector, highlighted by national campaigns that are backed by the government including #iwill from Step Up To Serve. Social action provides a great opportunity for delivering Arts Award in an informal learning context.
Our creative campaigning resource is designed for Arts Award advisers in the youth and community sector who are working alongside young people to support creative social action and accrediting the activity using Arts Award's nationally recognised qualifications.
This is the first guide of its kind to directly link social action to the arts through a recognised arts qualification and is launched in partnership with UK Youth.
The resource includes:
The social issues which are important to young people now
An interactive tool to help you and your young people to decide how to explore social issues through different art forms
Social action mapping for all five Arts Award levels
Top tips for evidencing creative social action activities for Arts Award
Inside youth and community – how schemes at key youth initiatives can be accredited with Arts Award including: The Youth Achievement Award, The Scout Association, Girlguiding, NCS and DofE
Arts Award and National Citizen Service
National Citizen Service (NCS) is open to all 15 to 17 year-olds in England. Over 100,000 young people have already taken part and the latest evaluation shows that NCS is helping to build a more confident, capable, connected and compassionate generation through social action. Young people taking part in NCS can work towards Arts Award through a wide range of creative campagining activities. Our two resources will help with planning and evidencing Arts Award during NCS:
Arts Award and NCS for advisers
Arts Award and NCS for participants
Get inspired - Read our creative campaigning case studies
Delivering great social action through the arts - This tool is for young people and advisers to use when deciding upon a chosen social issue and selecting an art form to carry out their social action activity.
Take me back to the youth work and communty orgnaisations pages