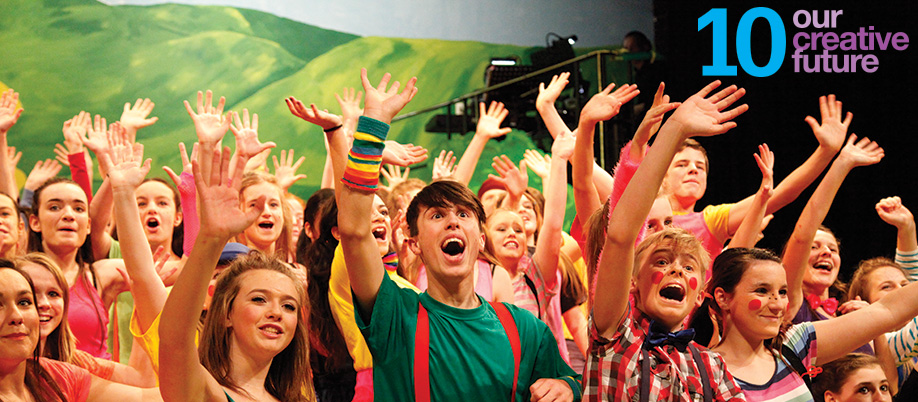 1st September 2016
Marking the beginning of Arts Award's 10th birthday celebrations Start Your Arts Award Day takes place on 1 October.

On Start Your Arts Award Day, hundreds of young people begin new creative projects. Arts Award centres across the UK - including schools, arts organisations, libraries, museums and clubs - will run activities to inspire young people to get involved.

It offers a chance for young people to get going with their awards, new advisers to start delivery and existing centres to attract new cohorts. Young people can take our 10-Month Challenge by pledging their commitment to achieving an award by summer 2016 via Arts Award Voice They can then post their artwork on the Arts Award Voice Facebook page.

You can see centres who are supporting Start Your Arts Award Day on our online map.

Here is a flavour of what centres are doing for Start Your Arts Award Day:

• Falinge Park High School and Performing Arts College, Rochdale, are helping to kick off Arts Award's 10th birthday celebrations with some awe-inspiring music, theatre, mehndi and animation lunchtime taster sessions

• Chingford Foundation School are celebrating with a creative cupcake workshop and will be enjoying the start of a new Arts Award project by eating their creative cupcakes

• Art4Space in London are starting a series of 10 week-long courses, accredited with Arts Award Explore, that will run throughout the 2015-2016 academic year

• Artistic Director, Damian Cruden and Associate Director Juliet Forster at the York Theatre Royal, will be running a launch workshop with a group of 8-10 year olds who will begin their Discover Award on Start Your Arts Award Day

• Carre's Carre's Grammar School in Sleaford launch their Bronze and Silver Arts Award with a 10-hour challenge Art Day

Start Your Arts Award Day supports BBC Arts Get Creative - a year-long celebration of British arts, culture and creativity. Arts Award has joined organisations nationwide to become a Get Creative Champion.