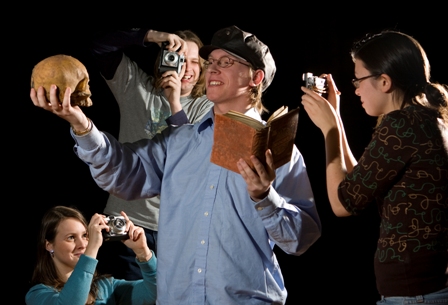 Arts Award was launched in October 2005 and so we turned 10 in 2015. Check out the story of Arts Award's first decade via our ArtsAward10 Timeline

In October 2015 we launched a 10-month celebratory campaign. Arts Award advisers and centres – new and long-standing, Arts Award Supporter organisations, young people and Arts Council England's Bridge organisations all joined in to mark 10 years of Arts Award.

10th birthday developments were shared each month via an #ArtsAward10 update. Read the last edition from July 2016 here.
Start Your Arts Award Day
Arts Award's birthday kicked off with Start Your Arts Award Day on 1 October 2015 – a chance for young people to get going with their awards, newly trained advisers to start delivery and existing centres to attract different cohorts or start projects. Thanks to all of the 126 centres who supported this day.
Quarter of a million awards
In our 10th birthday year we wanted many more young people to be offered the chance to celebrate their artistic achievements through Arts Award. Our aspiration was for 250,000 awards to have been achieved by young people since the start of Arts Award, for 'our creative future'.

On 1 July 2016, Arts Awards achieved totalled 252,682. Many congratulations to all centres who delivered Arts Award during our 10th year, featured on our 10th birthday map and to Supporter venues for their contributions.

See our progress towards a quarter million awards month by month here.
Arts Award Week
Our 10th birthday celebrations culminated in a week packed full of activities and events running from 2-10 July 2016. Find out more about Arts Award Week