10 September 2013
NEWS RELEASE
Primary specialists and advocates for creative learning welcome launch of Arts Award Discover 5+
The news that Trinity College London has today announced the addition of Discover 5+ aimed at 5-6 year olds to its portfolio of Arts Awards has been welcomed by education specialists and advocates for creativity in schools.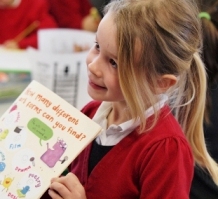 The launch of Arts Award Discover 5+ follows a successful trial which demonstrated its ability to support teachers in shaping curriculum projects and raising their pupils' understanding and appreciation of the arts at Key Stage 1.
The trial involved around 400 children in a variety of Arts Award centres, including schools, after school clubs and community centres. Mandie Haywood, Headteacher at Old Park Primary School in Telford, one of 12 centres who took part, says:
"It was a real pleasure taking part in the testing of Arts Award Discover 5+. The resources were fun and simple and our Key Stage 1 pupils loved them. It's clear to me that learning about art, artists and creativity can also have a positive impact on a child's confidence and engagement with the wider curriculum too."
Children's author, ex-Poet Laureate and broadcaster, Michael Rosen commented:
'Early and primary years are a time when children are shaping the way they see the world. Taking part in arts activities can only enhance their overall growth and development and creative teaching can find routes to many other parts of the curriculum through the arts. The new Discover 5+ resources are fun and engaging as they get children drawing, singing and involved in the arts to start them on a journey of discovery. The touchstones for education are investigation, invention and co-operation. The arts can and should be at the heart of this."
While Pam Burnard, Reader in Education at the University of Cambridge, adds: "Research evidence is unequivocal in its support for the importance of creative and cultural education in early childhood. 'Discover 5+' addresses a great need for specially designed programmes to introduce 5-6-year-olds to new participatory approaches, introducing children to the arts through flexible modes of delivery of well-tested holistic and multimodal learning strategies for creating participatory spaces, collaboratively developing children's creativity. The place of the arts and creative learning in nurturing 5-6-year-olds' developing imagination and creativity is an inspiring focus of 'Discover 5+'. Its launch is timely and welcomed."
Trinity College London believes that Arts Award plays an increasingly significant role in supporting arts and cultural education and school improvement. It puts teaching staff and individual young people in the driving seat where they can design their own creative challenges.
The government-commissioned independent review of Cultural Education in England recommended that most young people should be offered the opportunity to take part in Arts Award and described it as a "valuable qualification".
The launch of Discover 5+ means that teachers can now benefit from the specially designed creative resources including a large sized activity book with stickers and a specially composed and recorded song called "Art is everywhere" to support delivery of their Key Stage 1 curriculum.
Alice Young, Head of Arts Award, Trinity College London, says: "Since we launched Arts Award in 2005, almost 100,000 Arts Awards have been achieved by young people.
"We know that embedding creativity in the lives of young people from an early age has a markedly positive impact on their educational attainment as well as supporting the development of confidence, communication and leadership skills - such an important foundation for personal growth. We developed Discover 5+ in response to significant demand from primary schools to open up Arts Award to an even younger age group and this move was supported by Arts Council England.
"Schools say that when they offer Arts Award to their pupils they experience a marked improvement in literacy and numeracy as well as attendance and engagement with education more broadly. This led us to consider the effect that an even earlier introduction to arts and creativity could have on children. We are delighted to welcome Discover 5+ to the Arts Award family, meaning even the youngest pupils will benefit."
Laura Gander-Howe, Director, Children, Young People and Learning, Arts Council England adds: "We are delighted to be supporting and funding the arrival of Arts Award Discover for young people aged 5+. This new addition will increase Arts Award's reach across all the key stages of education, in and outside of school, and provide a fantastic introduction to the arts and culture from an early age, something which the Arts Council recognises is very important."
The launch of Discover 5+ means that children can begin engaging with Arts Award from age 5 and progress to Explore while still at primary school. At secondary school from age 11 upwards they can continue with their Bronze, Silver and Gold Arts Award.
Arts Award provides structure for arts, cultural and media activities and projects and can be offered flexibly as part of the curriculum within education and non-education settings.
For more information about Arts Award and delivering Arts Award Discover 5+, please visit: www.artsaward.org.uk or call 020 7820 6178. Twitter: @ArtsAward, Facebook: Arts Award.
COMING SOON: Trinity College London will be celebrating the 100,000th Arts Award, as well as the launch of Artsbox, a new digital platform, that will allow young people to develop their Arts Award portfolio on a secure online site. Funded by Arts Council England and the Department for Education, Artsbox has been designed in conjunction with young people by leading social learning specialists Makewaves with visual design by Hot Pepper Design. Artsbox will be rolled out in selected Arts Award centres this autumn with widespread availability from spring 2014
___________________________________________________________________
For further information, images, case studies, and/or interviews, please contact:
Chloe Barker on 07921 866109 or chloegudrun@live.co.uk or Jill Cochrane on 07921 865540 or jillebc@btinternet.com.
Notes to Editors:
Arts Award plays an increasingly significant role in supporting cultural education in the UK for young people up to the age of 25. Arts Award has five levels, four of which are accredited on the Qualifications Credit Framework (QCF). The award assesses art form knowledge and understanding, creativity and communication skills and helps prepare young people for further education and employment. Accreditation starts with Explore (Entry Level 3) and goes up to Level 3 or Gold Arts Award (35 points on the UCAS tariff). Discover, an introductory level programme, is now available for young children aged 5 plus. Arts Award contributes to achieving Artsmark status. Artsmark is Arts Council England's flagship programme which nationally recognises schools and educational organisations for their commitment to high quality arts and cultural education. Arts Award is managed by Trinity College London in association with Arts Council England working with 10 regional Bridge organisations.
Trinity College London is a leading International exam board offering qualifications in a unique spectrum of communicative skills — from music, drama and arts activities to English language — at all levels. Each year more than 600,000 candidates in over 60 countries take a Trinity assessment. Trinity exams are recognised and fully accredited by Ofqual (Office of Qualifications and Examinations Regulation) and other education authorities in many countries around the world. Trinity provides extensive resources and support for teachers preparing candidates for its exams, often working in partnership with other organisations to ensure that these resources are of the highest quality. For more information on Trinity College London visit www.trinitycollege.co.uk
Arts Council England champions, develops and invests in artistic and cultural experiences that enrich people's lives. We support a range of activities across the arts, museums and libraries – from theatre to digital art, reading to dance, music to literature, and crafts to collections. Great art and culture inspires us, brings us together and teaches us about ourselves and the world around us. In short, it makes life better. Between 2010 and 2015, we will invest £1.9 billion of public money from government and an estimated £1.1 billion from the National Lottery to help create these experiences for as many people as possible across the country. www.artscouncil.org.uk
Ends