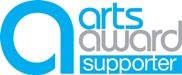 Arts Award Supporter is a free scheme which helps organisations reach young people doing their Arts Award.
Organisations bearing the Arts Award Supporter badge offer activities, events, expertise or resources which help young people working towards their Arts Award.
You don't have to provide free activities and your existing education programme is likely to link well with Arts Award.
Being a Supporter helps you to develop links with young people, schools and youth groups. Find out more or sign up.