This report is the result of four years research led by London South Bank University including researchers from the Weeks Centre, London South Bank University, London Metropolitan University and the University of East London The research team brought expertise in young people's educational transitions; youth labour markets; youth citizenship; the arts sector; creative qualitative research methods; and social statistics.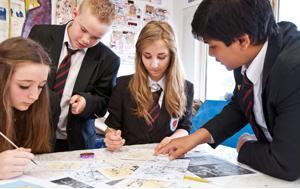 Trinity College London is delighted with the research findings and its recommendations will influence our marketing and support service for Arts Award in future. We are pleased with the interest it has attracted and hope it will also contribute to wider arts education policy. Read an Executive Summary with key recommendations along with Trinity's response to the Impact Study. The full report is available on request
The research included:
a survey of 107 Arts Award advisers
case studies of 14 settings delivering Arts Award
tracking 68 young people over three years from their completion of Bronze, Silver or Gold Arts Award to explore the impacts on their lives beyond the qualification
a national survey of nearly 400 Arts Award participants, surveying them before and after their experience of the qualification
interviews with 10 Arts Award 'alumni:' those who completed an Arts Award more than 3 years ago
interviews with 11 key stakeholders
analysis of Trinity College London's existing data on participants throughout the research period
Darren Henley, Chief Executive of Arts Council England welcomes the research:
'Over the past decade, we have seen Arts Award grow and develop, providing opportunities for over 250,000 young people to expand their cultural horizons. The impact study shows that Arts Award is helping to develop vital communications and presentation skills, encouraging young people to analyse and critique what they see. I am heartened to read how this experience is giving young people the confidence expand their cultural horizons and step into creative careers – achieving their creative potential.'
Professor Mick Waters, University of Wolverhampton says:
'The arts are fundamental to the human spirit and absolutely essential for developing the communication skills that are becoming increasingly important for success in 21st century life. Every child has a right to see the world through the perspective of the arts – just as societies have done throughout civilisation.

Arts Award helps those responsible for teaching and learning to structure and manage experiences that fit in with children and young people's maturing perceptions of society and their aspirations for their role within it.'

Professor Andrew Burn, Institute of Education, University of London, agrees.
'Arts Award has provided motivation, opportunities to reflect on learning, and tangible examples of artistic excellence which often go unrecognised by formal assessment structures.'
The government-commissioned independent review of Cultural Education in England recommended that most young people should be offered the opportunity to take part in Arts Award: a valuable qualification.