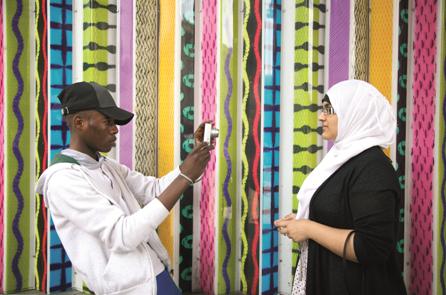 Youth work and community organisations - case studies
Below are a selection of case studies from youth work and community organisations outlining successful Arts Award approaches. For even more case studies from a range of settings, head to the adviser hub where you can search the full list. You can also find out about the work of our current Arts Award Good Practice Centres.
You can also find stories from young people on Arts Award on Voice, our online magazine for young people aged 13 to 25. You can search for case studies, and the young people you're working with can also post their own stories to share.
Arts Award through social action
People United: Discover Arts Award through social action. People United is an innovative charity that explores how the arts and creativity can grow kindness, empathy and a sense of common humanity. Through the social action project, primary school children were able to make a difference to, and gain a greater respect for, the older people they met in their local community.
Alabare e zone: Bronze through social action. Alabare runs The Junction, a drop in centre in Hampshire supporting young people aged between 13 and 25 who may be NEET, living in hostels, street homeless, have learning difficulties or have mental health issues. Working in partnership with Fixers, students at The Junction were able to deliver a social action project about an issue they felt strongly about, using music as their chosen art form.
Youth clubs and centres
Brighton and Hove Youth Arts Project is part of the City Council Youth Service. They work across Brighton and Hove running arts activities in partnership with schools and other agencies. They have been delivering Arts Award Bronze for more than three years including hosting a week long Arts Award summer school.
Youth justice
Odd Arts deliver arts projects and work creatively with vulnerable and at risk groups, include young people in the criminal justice system. They delivered Gold with two young people from Barton Moss secure setting, the first young people in a secure setting to achieve this level. The Arts Award is used to accredit their successful resettlement projects.
Clayfields House is a secure children's home. 19 young people achieved Bronze Arts Award after participating in a variety of arts activities. The young people also achieved a special under 18 Koestler Award.
Voluntary and community projects
Moving Together work with young people from low economic backgrounds and deliver Arts Award at all five levels. They link with De Montfort University and Curve Theatre to offer enriching experiences in a range of dance styles. Moving Together are a 2013-2014 Arts Award Good Practice Centre.
North Warwickshire Community Development service embedded Arts Award into a project they undertook with Coleshill School. Year 8 and 9 students completed Bronze and Silver Arts Awards as part of a six month project which culminated in a piece of public art and a celebration event to mark the declaration of a local nature reserve.
1st Olney Scout Group embedded Arts Award into their weekly Scout programme, which includes outdoor pursuits, community involvement, creative expression and learning about the wider world. 19 Scouts achieved their Bronze Arts Award.
Norfolk Girlguiding took part in a 'night at the museum' sleepover organised by Ancient House, part of Norfolk Museums Service and completed Arts Award Discover through a range of fun activities including art form charades, traditional campfire songs, and museum object handling.
Boston Police Cadets are part of the Lincolnshire Police Cadet Service. Young people aged 14 to 17 volunteer to make a positive contribution to the society in which they live through engagement, education and prevention. 14 members of the Boston Cadet Corps have taken part in Bronze Arts Award over a two year period.
Would you like to share your Arts Award experience?
We always love to hear from you! If you would like to share your Arts Award journey with us, please complete our online survey.

Please direct any young people you have worked with that would like to share their Arts Award story with us to Arts Award on Voice.
What next?