Since 2014, schools, museums, arts and community groups have been working together on creative projects to commemorate the First World War (FWW).

We have worked with the First World War Centenary Partnership, led by IWM (Imperial War Museums) to design a special edition Arts Award to support accreditation of your projects.
Until the end of 2018 children and young people have the opportunity to achieve a First World War Special Edition Arts Award certificate if they have worked with creative projects to commemorate the First World War centenary for their Arts Award.
Advisers can request to receive Special Edition certificates when making a moderation booking for Explore through to Gold, or placing an order for Discover certificates. To find out more see these guidelines on booking FWW Special Edition moderations or ordering certificates.
First World War Case Studies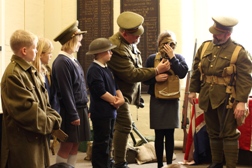 Here are a some more ideas to get you started:
Use art work produced during the FWW, or in response to it, as the starting point for new work: paintings, songs, poems, novels, photographs, trench art, posters, postcards – and more.

Find out about the people involved in the war and their stories – this could be a family member, your local community or internationally well-known figures. Re-tell these stories in writing, performance, pictures – whatever art form works for you and the children and young people you are working with.

Take an object as the starting point: find out what kind of person would have worn a uniform, imagine the story of a piece of military equipment or flag, tell the story of a domestic object, like a sock, from being knitted at home to being worn at the front
Tameside Council and The Lowry, Salford, supported by Curious Minds in association with the National Theatre, have created a War Horse Arts Award Explore arts logs which can be used as part of FWW projects - find out more
here
.