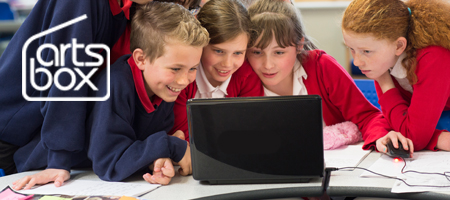 Artsbox is a digital portfolio space and app where children and young people can record and share their arts experiences, work towards an Arts Award and collect rewards for cultural visits. It's fun, free, interactive and safe.
Trinity College London and Arts Council England have recently undertaken an external review of Artsbox, consulting with Arts Award advisers and young people who are registered on the site. The outcome of this review has led Trinity to make the decision to close the Artsbox platform. Artsbox will close on 31 March 2018
About the review
The review aimed to better understand the user experience for both advisers and young people identifying:
The ways in which young people are using Artsbox
The extent to which the functionality of Artsbox meets young people and advisers' need
Whether the functionality needs to differ for different ages of young people using Artsbox
The extent to which young people want to share their Arts Award work or portfolio with a wider public audience and their ability to do this in Artsbox.
Although many young people and advisers identified positive experiences and welcomed the opportunity to have access to a secure site that supports young people. Trinity recognise that digital portfolio technology has developed substantially in the time since Artsbox was commissioned. The review highlights that the Arts Award community would gain greater benefit from accessing platforms that are more familiar to young people and allow them to share their art work and development with a wider audience of peers and arts professionals.
Current Artsbox users
The Arts Award team are taking steps to ensure that advisers and young people who are already developing work using the Artsbox platform are supported to work towards moderation by 31 March 2018.
Advisers and young people who are already registered on Artsbox, have been notified in writing and should read the Artsbox FAQ's which provide details of timelines, next steps and how to guides on downloading media from the Artsbox platform.
Moderation of Artsbox portfolios
When you are ready to moderate, advisers complete an adviser assessment report form for each portfolio (provided within Artsbox), log in to Arts Award adviser portal to book your moderation. When booking, you must indicate in the 'Contextual information' box that there are Artsbox portfolios within your group by quoting 'Artsbox moderation' within this box, otherwise Trinity cannot guarantee to deliver the moderation on the date agreed. This still applies if your moderation includes some Artsbox and some non-Artsbox portfolios.
Please be aware that at a standard or joint moderation, you will need to provide a computer and log in to Artsbox yourself so that the moderator can view your group's portfolios.
For a postal moderation, you will receive further information about how to share your work in your booking confirmation e-mail.
The Artsbox platform is now closed to new users and will not be accepting applications to register on Artsbox.
Useful resources
Artsbox planned delivery survey
Platforms for digital portfolios guide
Artsbox adviser guide for downloading media
Artsbox artist guide for downloading media