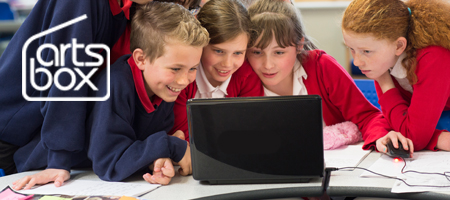 Artsbox is a digital portfolio space and app where children and young people can record and share their arts experiences, work towards an Arts Award and collect rewards for cultural visits. It's fun, free, interactive and safe.
Young people working towards an Arts Award can use Artsbox to collect evidence and create a digital portfolio. Artsbox helps Arts Award advisers and teachers to share ideas, and feedback and assess young people's work online. It makes evidence collection fun and safe, allowing you to easily track individual and group progresss.
Young people can upload video, audio, photographs and documents to record their creative journey. The Artsbox app means they can also use Artsbox on the move.
Artsbox can also encourage and reward cultural visits. Young people can collect digital badges when they visit public Arts Award Supporter venues by checking-in on the day using the iPhone app, or advisers and teachers can award badges.
To help you get started using Artsbox, watch our brief 'how to' film guides for advisers/teachers and young people (artists) and see what people who are using Artsbox have to say in this short film.
'I love using Artsbox. It's so flexible, easy and immediate, and it makes the whole business of evidencing so simple.'
Kirsty Winnan, Assistant Headteacher – Isambard Community School
Sandra Manson, Youth Media Co-ordinator at Knowle West Media Centre, said, 'If only all digital tools were as accessible and easy to use as Artsbox. I can't wait to start using it with our young people. Artsbox will transform the way I can support them. It saves space as well as time.'
The young people involved in helping to develop the design and functionality of Artsbox said: 'Artsbox is fantastic. It is a really meaningful way of sharing my films and artwork' (Eliot, age 14) and 'I couldn't believe it was really our design on the screen, looking so professional and fantastic. I'm looking forward to doing some more art to fill my Artsbox now!' (Ada, age 7).
Get started at www.artsbox.co.uk
Moderation of Artsbox portfolios
Once you have completed your adviser assessment report form for each portfolio (provided within Artsbox), log in to Arts Award adviser portal to book your moderation. When booking, you must indicate in the 'Contextual information' box that there are Artsbox portfolios within your group by quoting 'Artsbox moderation' within this box, otherwise Trinity cannot guarantee to deliver the moderation on the date agreed. This still applies if your moderation includes some Artsbox and some non-Artsbox portfolios.
Please be aware that at a standard or joint moderation, you will need to provide a computer and log in to Artsbox yourself so that the moderator can view your group's portfolios.
For a postal moderation, you will receive further information about how to share your work in your booking confirmation e-mail.
More about Arts Award and Artsbox
Artsbox has been developed by Trinity College London for Arts Award, a range of unique qualifications in the arts for young people aged up to 25. It's funded by Arts Council England and has been developed and tested by leading social learning specialists Makewaves with brand and visual design by digital agency Hot Pepper Design. Artsbox was developed with and tested by 500 young people from 25 Arts Award centres during autumn 2013.
To be kept up-to-date with news and information about Artsbox, register here.