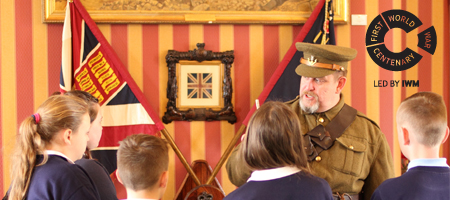 Arts Award is working with the First World War Centenary Partnership, led by IWM (Imperial War Museums), to offer a First World War Edition Arts Award certificate which will be available until the end of 2018.

The Special Edition certificate is open to schools, museums, arts organisations and community groups who are running Arts Award and taking part in projects to commemorate the First World War.

The assessment and moderation process is no different from the usual Arts Award process, except that arts logs/portfolios must show evidence that at least one part at all levels of the award has been inspired by the First World War.

Advisers will be able to request to receive Special Edition certificates when making a moderation booking for Explore through to Gold, or placing an order for Discover certificates, from September 2014.
For ideas and inspiration on FWW projects visit www.artsaward.org.uk/firstworldwar

'At War' poetry competition
War has always inspired art and the First World War is famous for its poetry, so why not get young people writing their own response to conflict. Arts Award Voice is running the 'At War' poetry competition until 11 November, open to young people aged 11-22 to submit poems which explore any kind conflict in their own way.
External Web Sites