Congratulations to Victoria Education Centre on winning Arts Team of the Year at the TES Schools Awards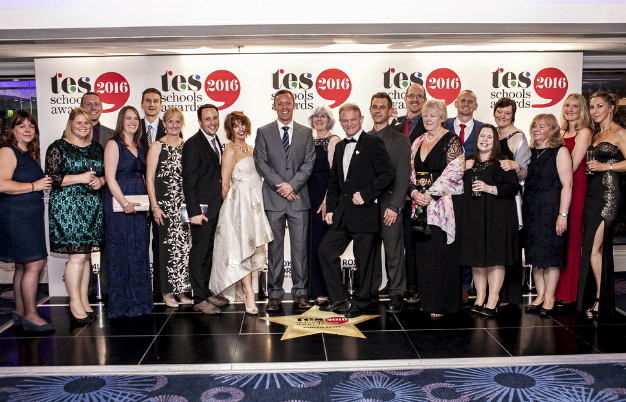 On Friday 24 June, the winners of the 2016 TES Schools Awards were announced at the Grosvenor House Hotel, Park Lane, London. Arts Award Good Practice Centre, Victoria Education Centre (VEC) were shortlisted for three of the categories in this year's awards; Alternative Provision School of the Year, Creative School of the Year and Arts and Drama Teacher or Team of the Year.
They won Arts and Drama Team of the Year and we'd like to wish them a very well deserved congratulations! Here's what TES said of VEC:
"Arts and drama are an important part of education, not least for pupils with special educational needs. The arts and drama department of the Victoria Education Centre (VEC) is committed to overcoming the barriers that young people with physical disabilities and complex health needs face when it comes to fully participating in these subjects. However, the judges felt that the school's inventive approaches would be equally successful with all pupils, regardless of their needs.

The judges were particularly impressed by how the arts are woven into the fabric of school life. VEC has set up its own radio station, which helps pupils to improve their communication skills and increase their self-confidence. The school also runs an inclusive and varied programme of extracurricular activities, including photography, drama and dance clubs.

The high status of arts subjects at VEC is evident in the fact that two-thirds of pupils in key stages 2 to 5 are working towards an Arts Award. In 2015, the passion and commitment of the department was recognised when the school became an Arts Award Good Practice Centre.

We were impressed by the breadth of innovative approaches, experiences and opportunities that the creative arts department at Victoria Education Centre has created and applied to meet a range of complex needs," the judges said. "A variety of learning-enabling technologies, the school-based radio station and multiple external partnerships remove barriers to learning. As a consequence there are high levels of engagement, participation, enjoyment and progress in the arts and drama."
Find out more about Victoria Education Centre's Arts Award activities here.