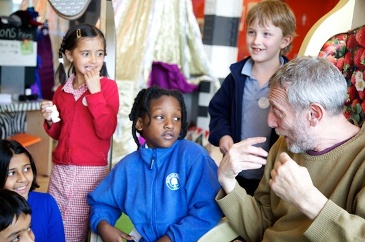 Children's author Michael Rosen took time out this week to read his new poem – specially written for Arts Award – to children from East London primary schools.
The children, who were all involved in the national pilot of our two new levels last year, were given the opportunity to meet Michael during an afternoon of creativity at the Discover Children's Story Centre in Stratford.
Michael said it was a 'special thrill' to be invited and added that he is delighted that 'whatever their inspiration, children can celebrate their creativity through doing an Arts Award'.
Arts Award Discover and Arts Award Explore have opened Arts Award to anyone aged 7 to 25 and training to deliver these levels to young people can be booked online now.
Alice Young, Head of Arts Award at Trinity College London, is happy to be able to 'warmly welcome' those aged 7 upwards to take part. She said: 'Our ambition, together with Arts Council England, is that Arts Award will support many more children and young people to gain recognition for their creative achievements'.