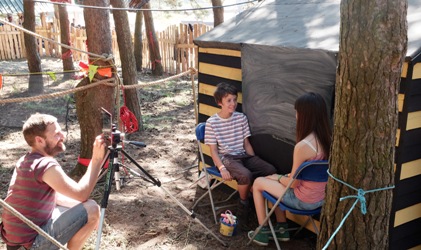 Arts Council England's Bridge organisations marked Arts Award's 10th birthday with regional events and activities during Arts Award Week.

Artswork (South East)
Artswork showcased high quality Arts Award work produced across the region at sub regional celebration events. This formed the culmination of the first year of AALN which connects arts organisations to support each other's Arts Award delivery.

Arts Connect (West Midlands)
During Arts Award Week, Arts Connect held an exhibition of Arts Award work from the past 10 years in the Gas Hall. The space also hosted seven schools, Birmingham Museum & Art Gallery and arts organisation Stans Café and supported up to 1000 young people through their Arts Award's during the week.

A New Direction (London)
A New Direction celebrated Arts Award Gold achievement in London over the last 10 years, through their 10 local area networks.

Cape UK (Yorkshire and the Humber)
CapeUK ran a series of seminars and events highlighting the range of Arts Award approaches within the region over the last 10 years. They also launched new resources for schools and arts and cultural organisations, including a Heritage pack and Literacy schools pack.

Curious Minds (North West)
In the North West, Curious Minds celebrated the fantastic Arts Award activity that has taken place in the region over the last 10 years. They showcased the very best practice through case studies and blogs.

During Arts Award Week they also launched their very own Arts Award Awards ceremony which will take place later in the year. There are opportunities to nominate advisers who have gone the extra mile to support young people in achieving Arts Award and young people who have shown real creative flair in their Arts Award journey.

The Mighty Creatives (East Midlands)
This year The Mighty Creatives provided support packages to over 50 organisations to deliver Arts Award. They shared, celebrated and profiled amazing stories from young people and organisations in the East Midlands. As part of Arts Award Week The Mighty Creatives also supported 'Birthday Parties' across the region for children and young people to complete Arts Award Discover through school events and regional arts festivals.

RIO (South West)
During Arts Award Week, Helen & Jemima from RIO travelled across the South West, visiting centres to celebrate their success. Look out for updates from their Arts Award Roadshow on Twitter! #ArtsAward10

Culture Bridge North East (North East)
Arts Award Week marked the culmination of the Culture Bridge North East We are Ten Programme with a celebration event taking place during the Week. The Programme brought together 14 organisations and schools who have been working on delivering Arts Award projects from across the region. The celebration was an opportunity for the young people to receive their certificates, take part in activities and celebrate alongside the cultural organisations.