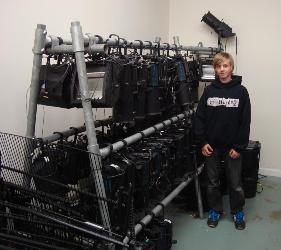 How Arts Award can work for you
Arts Award develops creativity, communication and leadership skills, building transferable skills which help prepare young people for higher-level study and employment.
The higher levels of Arts Award (Bronze, Silver and Gold) can be used to recognise work-based learning programmes such as traineeships, apprenticeships and internships and can add value to the work young people do and evidence the skills they have developed.
Unit 1 of Silver and Gold Arts Award supports young people to develop as arts practitioners through setting personal challenges, reviewing work, researching career paths and taking part in volunteering and work placements.
Unit 2 helps them develop essential skills such as team working and project management.
Colleges and creative industry employers have begun to use Arts Award as a qualification to support young people's work based learning via internships, apprenticeships and other skills development programmes.
Arts Award is also a great way for educational establishments to demonstrate how they are providing meaningful careers progression, as well as providing evidence for how schools and colleges are achieving the Gatsby Benchmarks.
Get inspired
Read more about employability and mapping Silver and Gold level projects to the skills and personal attributes employers are looking for in young people
Peer Productions took on a cohort of apprentices aged 16-23 years to train as actors and peer educators with support from the Creative Employment Programme. They delivered Gold Arts Award as part of the Level 3 Community Arts Apprenticeship framework.
Royal Opera House ran the Creative Jobs Programme in the summer of 2012 offering paid internships at organisations involved in the Cultural Olympiad, with several interns completing a Gold Arts Award.
If you would like to share your Arts Award case study, please complete our delivery questionnaire.
What organisations say
Arts Award is a uniquely flexible qualification which allows young people from a wide range of backgrounds to have their achievements recognised and celebrated. It is an incredibly broad qualification and has been designed to work in a wide range of settings. Before you start trying to make new schemes of work, look at what you are already delivering. The chances are, you will be able to map a great deal of it to the qualification with minimal tweaks.
Nina Lemon, Founder of Peer Productions
'It's been such a life changer being part of the Creative Jobs Programme and doing Arts Award. It enabled me to open up a number of networks and get great experience!'
Arts Award Gold achiever, Royal Opera House



Specialist support
If you are an employer from the arts and cultural sector, find out more about how you can deliver Arts Award in your setting here including planning resources and information about free face to face support.
If you are a further education setting, find out more about how you can deliver Arts Award here.