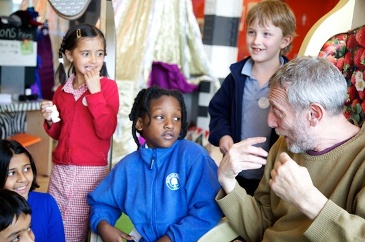 Michael Rosen is a writer and broadcaster who has produced many books for children and a few for adults. He lives with his family in London.
In April 2012 Michael supported us to launch Arts Award Discover & Arts Award Explore. He read his new poem – specially written for Arts Award – to children from East London primary schools.
The children, who were all involved in the national pilot of our two new levels last year, were given the opportunity to meet Michael during an afternoon of creativity at the Discover Children's Story Centre in Stratford.
'I like the way Arts Award is based on a reflective model of learning, encouraging teachers and leaders to focus on children and young people as individuals and as creative artists in their own right. Arts Award is a flexible framework, rather than a set curriculum, which ignites ideas rather than dictating answers.'
Michael Rosen