How Arts Award can work for you
We have seen a growing number of groups and schools working with young people with special educational needs achieve great results with Arts Award.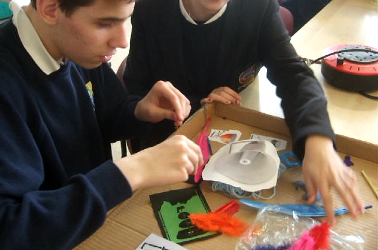 Arts Award can be accessible to young people with learning difficulties because of the design of the qualification. When considering if the qualification is suitable for the young people you work with you may find the following points useful:
support – young people can be supported by their adviser in whatever way is suitable to the young people's needs. The adviser is also the internal assessor for the young people's work


time – there is no time limit for doing the award, young people can take as long as they need to complete. For those not ready for moderation by the time they are 25, you can request special dispensation for a later moderation


evidence – portfolios need to show progress but can take any format suitable to the young person. This can include symbols, photos, scribed work, audio recordings or pictures



assessment criteria – assessed at Qualifications and Credit Framework Level 1 standard in communication, creativity and art form knowledge and understanding and not on specific art form skill levels. Communication can take any form and does not need to be verbal or written
Our two new levels, Discover and Explore, open up further starting points for beginning or taking part in Arts Award.
Useful links and resources
Our SEN leaflet gives general information on delivering Arts Award to young people with special educational needs
A guide for professionals outlining the importance of engaging people with PMLD (profound moderate learning difficulties) in the arts, and to explain the steps you can take to make the experience as enjoyable and productive as possible more>
Sue Caudle explores the Arts Award and its relevance for young people with learning difficulties in the NASEN publication read on>
The young people's booklets are available in the following formats:
Audio mp3 files, Braille, Large print and can be ordered through enquiries@artsaward.org.uk
Update, February 2013: We are currently reviewing and developing resources for SEN and will be adding further Arts Award support resources in the coming months.

For other special requests please contact the helpdesk on 0207 820 6178

Further information and support
Adviser training
From time to time we run specialised adviser training aimed at those working with young people with learning difficulties. The information is the same as the standard Bronze/Silver adviser training, but all case studies and examples are drawn from SEN contexts. DIY Theatre Company, Manchester are an Arts Award centre running the Arts Award in this way, and they, alongside the West Midlands Agency run our specialised training. Look out for their dates here>

Share your story and get networking
See how The Castle School supported students to develop creative, communication and literacy skills through their Arts Award programme.
Find out about how young people developed confidence through an Arts Award samba drumming project at Chatsworth High School
Greenfields School and Sports College used a range of methods to record students' responses to activities and Ravenshall School engaged students in a variety of art forms.
If you want to tell us your story and be featured as a case study please fill in one of our questionnaires
Why not link up with other advisers and professionals working in this context and share ideas by joining a special Arts Award and Special Needs discussion group on LinkedIn
Read about young people with SEN's stories about working towards their Arts Award

What practitioners say:
'In working towards the Arts Award our students learn more about themselves and their peers and begin to understand where they fit in the world around them, which is often a confusing place for a person with learning disabilities' Sharon Ainscough, Teacher, Chatsworth School
'The format of the award treats the participant as the expert and encourages a shared learning experience for the participant and their peers. This can create a great sense of ownership which in turn empowers young people to speak with confidence about their achievements' Jamie Patterson, Artistic Director, So Many Words
'It is unusual to see a qualification that is fully accessible to all different sorts of learners. It measures their personal journey. We offer Arts Award from Year 10 onwards timetabled and supported by lunch-time and out of hours clubs.' Keith Youngson, Deputy Head Fox Hollies Special School